Happy 4th!
I hope everyone is having a relaxing day and is able to spend the time with family and friends. My family and I spent the weekend with my brother and his family in Maryland and had a great time. On Saturday, the day was gorgeous so we spent the day at the beach and had a family BBQ back at the house. However, on Sunday it rained so we spent the day indoors and we decided to head back to New York early this morning.
The outfit below is what I wore on Saturday for our BBQ. The maxi skirt linked here was sent to me as a part of a collaboration with Shein, and let me start by saying that I purchase items from Shein all the time and I love their clothing. They sell the trendiest items at such an affordable price. However, this is the first bottom I've ever tried from them. My first impression was that the skirt was pretty and the colors were vibrant. However, the skirt is super long and because I didn't want to to go through the hassle of exchanging it for something else, I found a way to work with it. So I folded down the top of the skirt and wore a tank with a side knot to give it a funkier look. I must point out that Shein encourages customers to read the measurements before placing an order and since I didn't bother to do that, I'm stuck with a skirt that is too long. Whomp whomp! So with that being said, this skirt is perfect if you're on the taller side. The material is good quality and one positive is that you don't have to iron it. It also has a drawstring which makes it a one size fits all (well except for the length issue). Have you shopped for bottoms from Shein, how is their sizing? I'm curious to know since I would love to try more of their skirts. Let me know in the comments below.
Shein Skirt // Old Navy Top // Steve Madden Sandals (old), similar here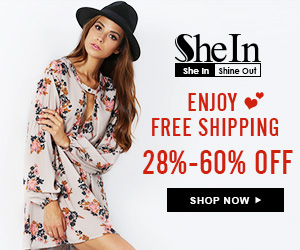 *This post was in collaboration with Shein. All opinions are my own.